Young Leader Of The Year Shortlisting… For Second Year In A Row!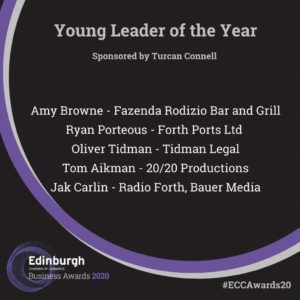 Oliver Tidman, Founder and Managing Director of Tidman Legal, has been shortlisted for 'Young Leader of the Year' at the Edinburgh Chamber of Commerce Annual Business Awards, to be held at EICC on 27th February 2020.
Sponsored by Turcan Connell, the 'Young Leader of the Year' Award is open to individuals aged 35 or under, who have shown evidence of exceptional leadership skills with a significant contribution towards their organisation and act as a role model to others.
Commenting on his nomination for this year's event, Oliver said: "I love the Edinburgh Chamber of Commerce Business Awards. It's an opportunity to celebrate success with the local business community. I was thrilled to learn that I have been shortlisted for the Young Leader of the Year Award for a second year running. It is great to get this recognition of what has been achieved by Tidman Legal and I would like to give my thanks to our exceptional team and clients. Thanks also to the team at Edinburgh Chamber who have provided excellent events, information and networking opportunities since we joined nearly 3 years ago."